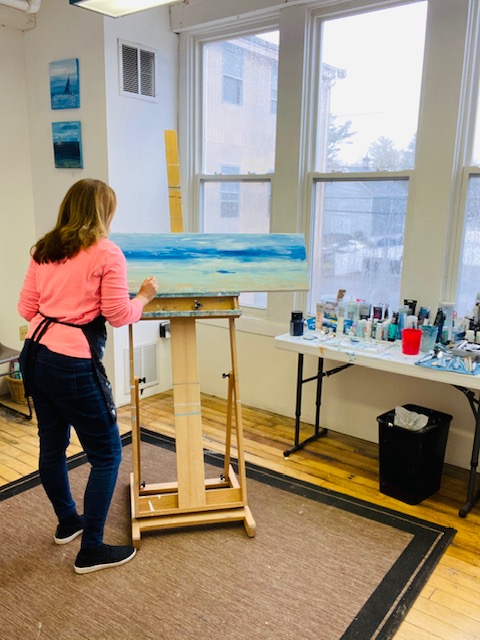 Art Is Within Us All
"Art is the activity by which a person, having experiences an emotion, intentionally transmits it to others" Leo Tolstoy
Explore your creative side with abstract art!


Lesson 1 - Painting An Abstract Seascape
In this step-by-step tutorial consisting of five videos I'll show you a variety of canvases and surfaces, painting tools you can use in addition to brushes, how to create interesting textures and which acrylic paints I use. By the end of the lesson you'll have your first piece of abstract, minimalist art: a gorgeous seascape!
There is also a BONUS video on updating an old painting.
All enrolled students will have the opportunity to join a private Julianne McLaughlin Art Classes Facebook Group!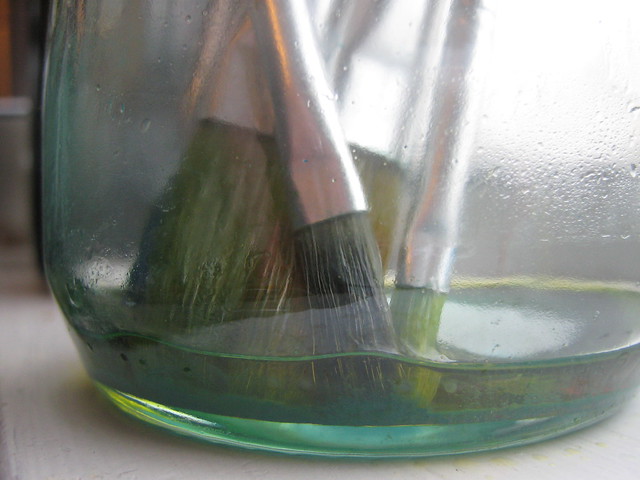 Suggested Course Materials
-Acrylic Paint (dark and light blue, white, aqua/turquoise, tan/gold/taupe). However, use any colors you like!
-Brush
-Old Credit Card or Plastic Knife or Pallet Knife
-Canvas or Heavy Paper
-Paper towel
Optional:
-Tape (use if painting on paper to so it won't move around during painting).
-Paper plate to put paint on.
OR...purchase a ready to go paint kit (below).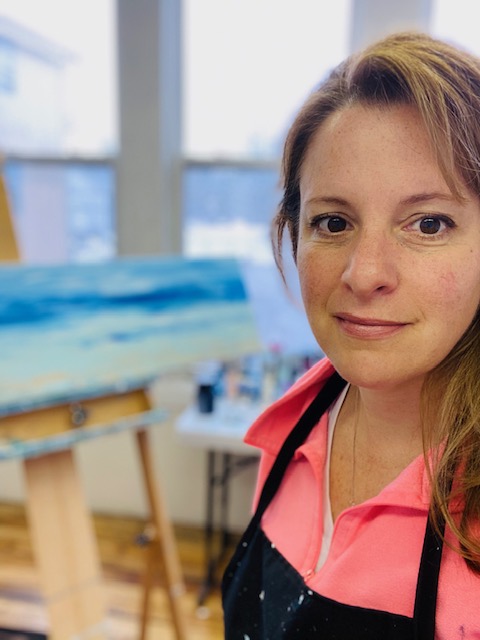 Thank you for visiting my art tutorial page. I hope you will consider purchasing the course as my goal is to give to you what has been given to me through the beauty of art. We all have pain and heartache, grief and sadness, but I know that you can find healing, hope and love in being creative. This is what I want for you.
Here is my story, truly an accidental artist.
In 2018 I lost my father to Alzheimer's, a brutal, terrible disease. It was one of the most heart breaking times of my life. I was fortunate enough to spend many, many hours with him over this three year decline and I learned so much from him. My Dad was a brilliant engineer, an avid reader, lover of music (classical and Irish), fixer of all things broken and an artist. He started painting watercolors when he was 65. He always was seeking to try new things, he loved to learn.
 In February of 2019, I suddenly and strongly felt the need to buy a canvas and paint something. Keep in mind that I haven't painted anything (other than walls and an occasional piece of furniture) since high school! I have no formal artistic training. But I went ahead, painting with the feeling of "something," what I believe was my Dad, urging me on.
I posted my pictures on Instagram and FB and received rave reviews. You cannot imagine my shock and surprise when I was asked to sell my art work! And that leads me to now. I fell in love with abstract art and found something that soothes my soul and gives me an amazing feeling of creative energy and happiness.
I think the Irish engineer, tinkerer and amazing artist is somewhere giving me his silent nod in appreciation.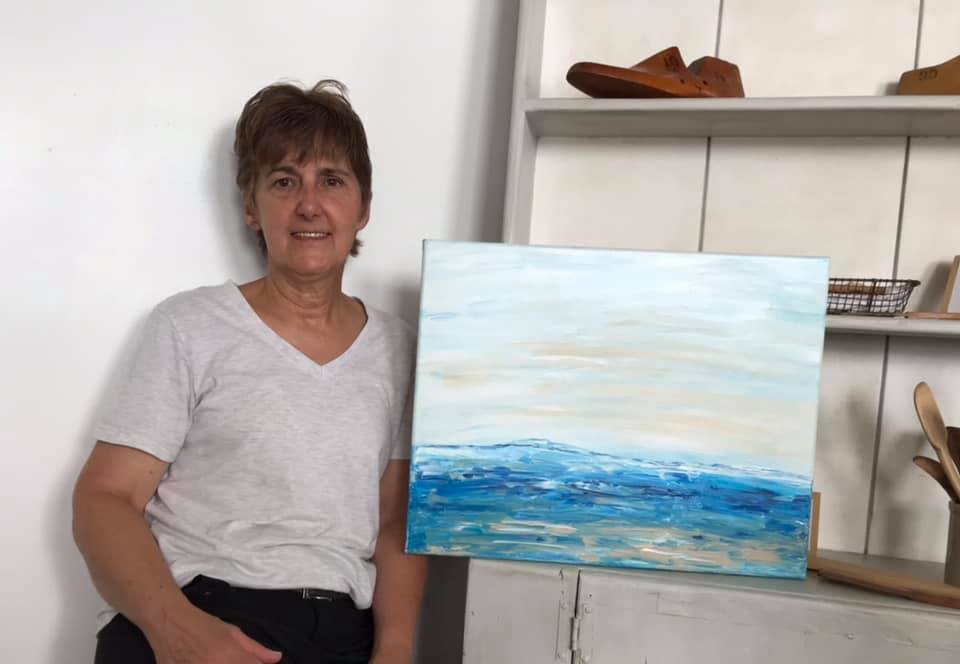 "I have taken two of Julianne's painting classes. I found them to be so much fun, enlightening and she encouraged me to use skills that I didn't know I had. I look at the sky and clouds in a very different way now."
Erin Blanchette Matthews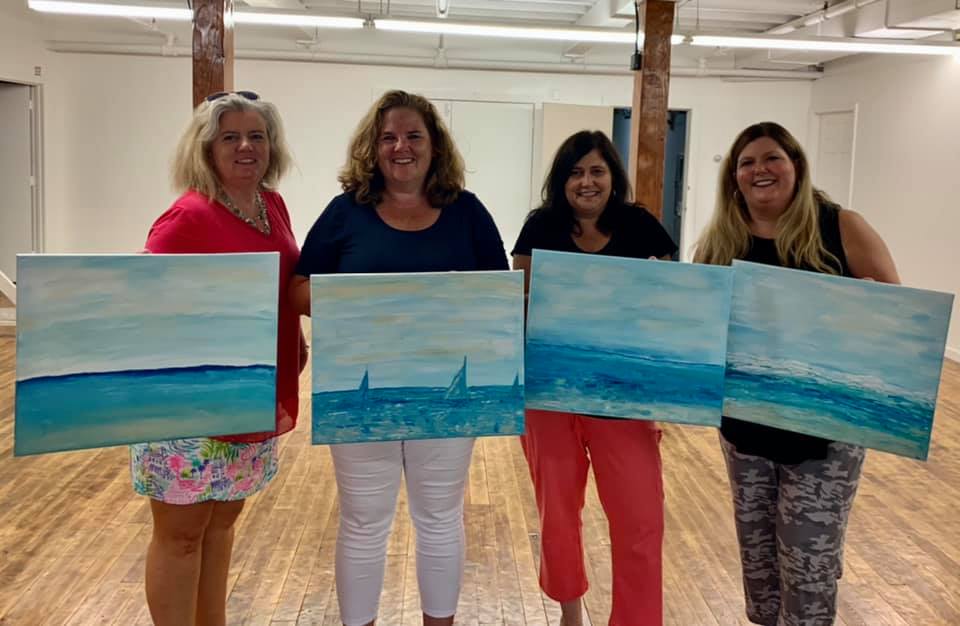 "As a self critical artist, I took Julianne's class for a fun night out with my best friends to create something that might sort of look presentable, at least to my family. What I got was more than I bargained for. Julianne made creating art fun and I finally let go of hating my creations! I learned so much from her class and not only created something that I was actually proud to hang on my wall, but it also triggered a new found love of artistic expression for me. I will be eternally grateful for her teaching me new skills, for taking the time to inspire me and helping me realize that art is an expression and each of our expressions, like us, are unique and beautiful. I promise you will love this class."
Karen Coughlin Sullo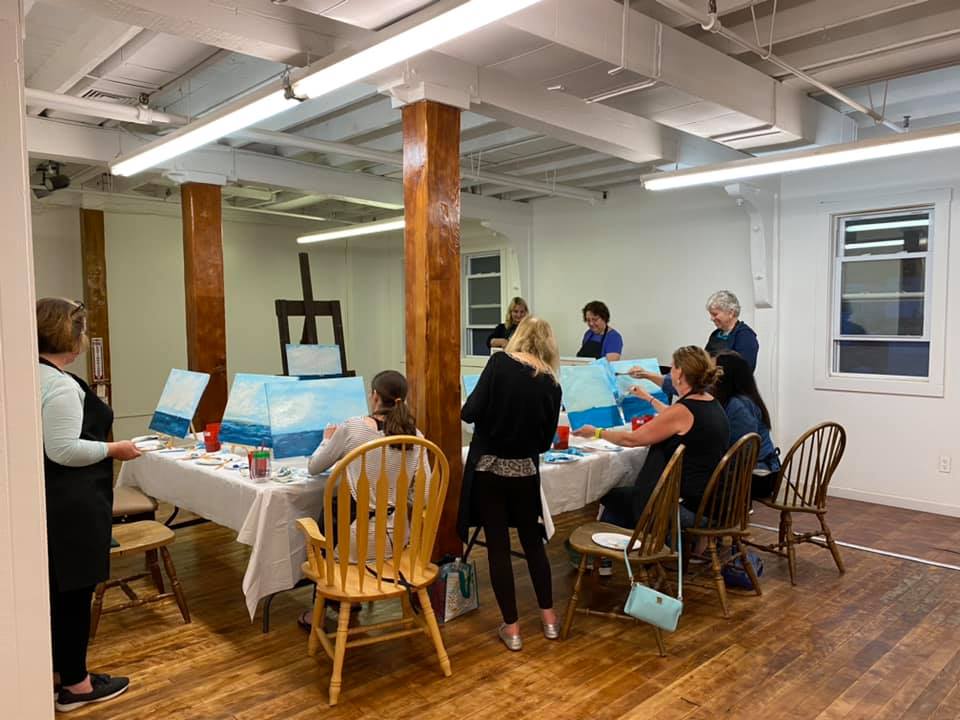 "Julianne was an excellent instructor-patient and informative. She walked us through each step of the painting, skillfully guiding both the experienced and inexperienced artist. I was able to take what I learned in the classroom and create art at home with the tools she taught us. I look forward to another session!"


Helen Mahon


"Julianne is inspiring, welcoming and above all fun!"
"Taking Julianne's class, I was a little nervous going in as I have NEVER painted before in my life (unless you count finger painting as a child), but the moment I walked in I was greeted with a warm welcoming atmosphere and felt immediately at ease with zero pressure to create a masterpiece.
Julianne is inspiring, welcoming and above all FUN! She is an excellent instructor who explains every brush/tool, different techniques, and color choice as she guides you. There are no "mistakes" to be made as you quickly learn that even a finished product can be re-visited later if you choose to make changes to your vision. The creation process is therapeutic and the artwork itself is calming. Not one painting in a class of 10 looked the same and yet they were all beautiful in their own unique way. My biggest take-away was all the laughs, encouragement, and relaxation that I experienced in that one class….and my painting came out pretty great for a first effort. Can't wait to take another class! Be sure to ask how she got started painting, her story will be sure to melt your heart."
Elaine Carroll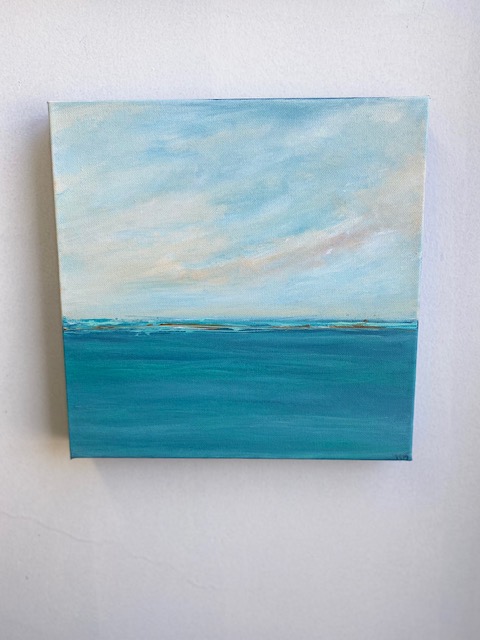 Check your inbox to confirm your subscription